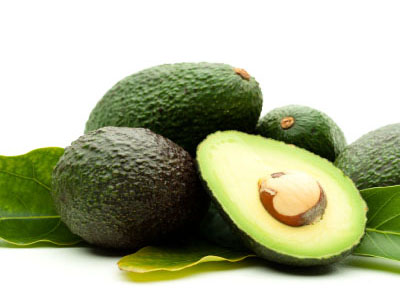 Click to see video
Avocado Five Ways

A fruit that may be confused with a vegetable, one avocado boasts twice the potassium as a banana, a high dose of good fats and nearly 20 vitamins and minerals. Here are five favorite ways to enjoy its smooth, creamy texture:

1) Make guacamole: The quintessential avocado creation, guacamole can be customized to suit all tastes. Dice avocado and add chopped onions, fresh lime juice, cilantro and salt. For a twist, spice it up with jalapeños or give it tang with pomegranate seeds. Spread it on sandwiches and add it to eggs!

2) Fill it: Serve a dish with a half of an avocado as the cup! Stuff it with salsa, shrimp salad or quinoa as a side or lunch entrée. Or, bake it with eggs, spices and crusty breadcrumbs on top.

3) Shake it up: It's an ideal base for shakes and smoothies. Blend an avocado with ice cubes, almond milk, melted chocolate, vanilla extract and honey for a decadent shake. Combine frozen berries or other fruits, avocado and milk or yogurt for a balanced breakfast smoothie.

4) Satisfy your sweet tooth: Disguise avocado in chocolate pudding or key lime pie and no one will know how nutritious that dessert really is! Substitute avocado for butter to make vegan cookies or muffins. Remember, it's a bit thicker so you might need another liquid to thin out the batter.

5) Feed your skin: Good for your skin and your body, avocado blended with a little honey and hot water makes a moisturizing, nutrient-filled face mask that turns your home into a spa!