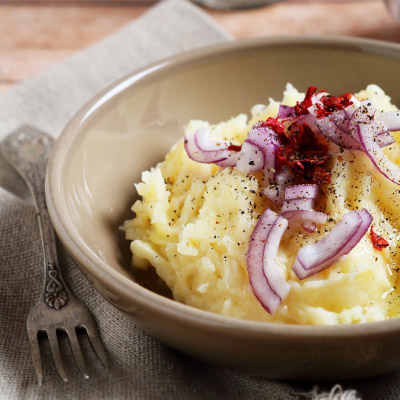 Mash Up Your Potatoes and Root Vegetables
If you're looking to liven up your side dishes this holiday season, enhance your festive preparations with these creative mash-ups! Try these recipe ideas that combine versatile and flavorful ingredients.


Rustic Rutabaga Smashed Potatoes
In large saucepot, add 1-1/2 pounds unpeeled Yukon Gold potatoes (cut into 3/4-inch pieces), 3 coarsely chopped garlic cloves and 1 small peeled rutabaga (cut into 1/2-inch pieces); cover with water and heat to boiling over high heat. Reduce heat to medium-high and simmer 20 to 30 minutes or until tender. In colander, drain cooked vegetables and return to saucepot. Add 3/4 cup low fat buttermilk, 1/4 cup chopped green onions, 1/4 teaspoon salt and 1/8 teaspoon ground black pepper. With potato masher, mash to slightly chunky consistency.


Root Vegetable Mash
In medium saucepot, add 4 peeled garlic cloves, 8 cups peeled and coarsely chopped root vegetables (carrots, celery root, parsnips and/or turnips) and enough salted water to cover; heat to boiling over high heat. Reduce heat to medium; cover and simmer 20 to 22 minutes or until vegetables are very tender; drain vegetables. In same saucepot, heat 6 tablespoons unsalted butter, 1/2 cup heavy cream, 1 teaspoon salt, 1/2 teaspoon ground white pepper and 1/4 teaspoon ground nutmeg to simmering over medium heat; return vegetables to saucepot. With potato masher, mash vegetables until slightly chunky. Heat through over medium heat, stirring occasionally. Serve topped with 4 chopped green onions (about 1/3 cup). Makes about 6 cups.


Potato-Avocado Mash-up
In large microwave-safe bowl, heat 4 cups leftover mashed potatoes on high for 2 minutes or until warmed. In medium bowl, mash 2 medium pitted and peeled avocados; stir in 2 teaspoons fresh lemon juice and 1/2 teaspoon cayenne pepper sauce. Stir avocado mixture into potatoes and warm in microwave. Garnish with cilantro, if desired. Place mash-up into avocado skin for a creative presentation.


Loaded Mashed Potato Bake
Spray 3-quart casserole dish with nonstick cooking spray. In small bowl, combine 1/2 cup coarsely crushed cheese crackers and 2 tablespoons melted unsalted butter. In large microwave-safe bowl, heat 4 cups leftover mashed potatoes on high for 1 minute to soften. Add 1/2 cup sour cream, 1/2 teaspoon garlic powder and 1/4 teaspoon ground black pepper to bowl and stir until well combined. Add 1-3/4 cups cheese, about 3/4 of a 2.1 ounce package fully cooked bacon (coarsely chopped), 2 thinly sliced green onions, 1/2 chopped small red onion and 2 tablespoons chopped fresh parsley to bowl; stir until well combined. Transfer mixture to prepared casserole dish and sprinkle evenly with cracker mixture, 1/4 cup cheese and remaining bacon. Bake at 350° for 45 minutes or until heated through.


Caramelized Onion & Gruyère Mashed Potatoes
Heat large covered saucepot of salted cold water and 5 medium peeled russet potatoes (cut into large chunks) to boiling over high heat. Reduce heat to low; simmer, uncovered, 20 minutes or until potatoes are tender. Heat medium saucepot over medium-high heat until hot; add 1 large chopped onion and 2 tablespoons olive oil and cook 5 minutes, stirring occasionally. Reduce heat to medium-low; cook 15 to 18 minutes longer or until onion is browned. Drain potatoes; transfer to large bowl. Add 1 cup grated Gruyère cheese, 1/2 cup warmed milk, 4 tablespoons unsalted butter (cut into pieces), 2 teaspoons salt, 1/4 teaspoon white pepper and 1 pinch nutmeg. With mixer on medium-high speed, mix potatoes 2 to 3 minutes until smooth; stir in onion.