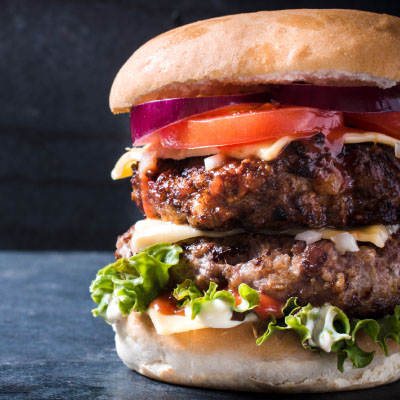 Build Your Best Burger
The burger has never lost its appeal for millions of its admirers. An ideal feature of the beloved sandwich is that it can be served simply, or be all decked out with the items of your choosing. There's no limit to the number of combinations for a better burger.

Stuffing:
You've heard of stuffed pizza. Well, how about stuffed burgers? Stuff the center of an uncooked patty with blue cheese, sautéed mushrooms, shredded veggies or zesty salsa.

Be Gentle:
Don't be tempted to smash your spatula down on the beautiful burgers. You'll lose the natural juices. Instead, use a fork to poke holes in uncooked patties. Heat will work its way through and cook the meat evenly.

Cheese, Please:
Just before your burgers are done, top with your favorite cheese. Here are a few delicious suggestions:
Blue Cheese – Tangy, buttery and sharp, blue cheese melts beautifully.
Mozzarella – Soft and delicately flavored, perfect for melting.
Sharp Cheddar – Creamy with just the right balance of flavor and sharpness.
Swiss Cheese – Nut-like flavor, smooth, delicious and easy to slice.

Add Some Extras:
Go with familiar sautéed onions and mushrooms, or try sautéed red onions, sundried tomatoes, pepperoni, sliced avocado, grilled jalapeño peppers or Canadian bacon.

Switch Up the Condiments:
In place of tried-and-true mustard, ketchup and/or mayo, try using
steak sauce, horseradish or pizza sauce. Guacamole is another alternative and provides a "good-fat" option. Your burger can be taken up a notch by topping with a garlic-herb butter. And for those who really want to try something new… attempt to make a homemade ketchup with fruit other than tomatoes, like bananas, cherries or figs.

The Bun:
If you're extensively dressing your burger, you may want to choose a sturdier bun. Other than that, the sky's the limit with the number of choices. Try ciabatta, brioche or pretzel varieties, available at your Bakery.